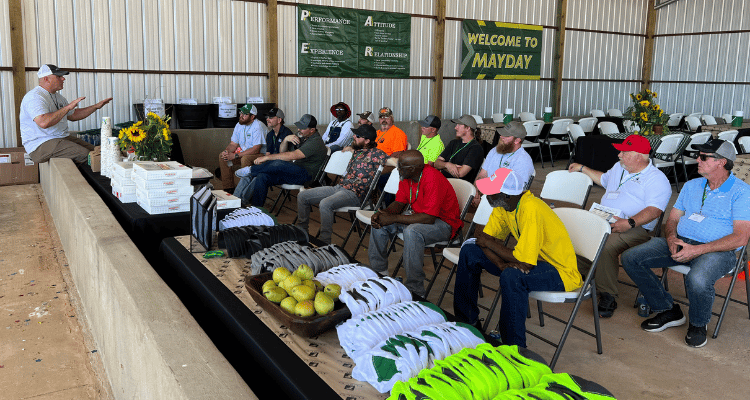 Tusco Celebrates 6th Annual May Day
On May 27th, 2022, Tusco celebrated its 6th Annual May Day. Each year, May Day is a full day of celebrations, awards, and team building. It's an important opportunity to unite our ever-growing team and show our appreciation to our team members who make it all happen, from those who are just starting to those who have been with us for 25+ years.
Our team members work tirelessly to help us make the world a safer and more reliable place, so this event is our small way of showing our appreciation and recognizing their hard work and dedication.
May Day Awards
Each year at our May Day event, we acknowledge and celebrate the hard work of our team members with a series of awards. We recognize our MVPs across the company, celebrate anniversaries, and conclude with our coveted PEAR Awards. Based on our company's core values of Performance, Excellence, Attitude, and Relationships, the PEAR awards are the highest honor you can receive at Tusco. All awards are based on company-wide voting, meaning the recipients were chosen by their peers who work alongside them each and every day.
Recognizing the PEARs
Everyone at Tusco lives by our four core values of Performance, Excellence, Attitude, and Relationships (or PEAR). But at May Day each year, we celebrate the team members who most embody each of these core values and best represent that value in everything they do.
As voted by their fellow team members, the 2022 Tusco PEAR Recipients are:
Performance: Claude Caldwell Jr. and Josh Martin (tie)
Experience: John Price and Amber Williamson (tie)
Attitude: Tedra Williams
Relationship: Josh Martin
And, in our final, most significant award for 2022, the annual Golden PEAR was awarded to Mack Meherg for being the best overall representation of all four of Tusco's core values.
Recognizing the MVPs
We appreciate every Tusco team member, and we tell them that every day. But we especially want to acknowledge those MVPs who get things done the right way and push us forward as a company.
As voted by their fellow team members, the 2022 Tusco MVP Recipients are:
Field Rookies of the Year: Stephen Piatt and Christopher Barrentine (tie)
Office Rookie of the Year: Alex Crawford
Electronic Security MVP: Cole Baker
Project Management MVPs: Rick Dye and Mack Meherg (tie)
Superintendent MVP: Kasey Hancock
S&M MVP: Taylor Hinote
Field MVP: Stephen Piatt
PreCon MVP: Adam Rickman
Admin MVPs: Hannah Selman and Julie Snodgrass (tie)
Recognizing Years of Service
As Tusco nears its 50th anniversary, it's incredible to look back and realize that some of our team members have been with us for more than two decades. We celebrate these dedicated, steadfast team members by recognizing each individual who reaches a milestone anniversary.
The 2022 Years of Service Recipients are:
25 Years: Rick Dye
25 Years: Marc Burton
15 Years: Eric Burton
15 Years: Taylor Hinote
May Day 2022 was a huge success, and it was a pleasure to highlight their accomplishments and celebrate with everyone and their families. We want to thank all our employees for being the best they can be and making Tusco better each day.