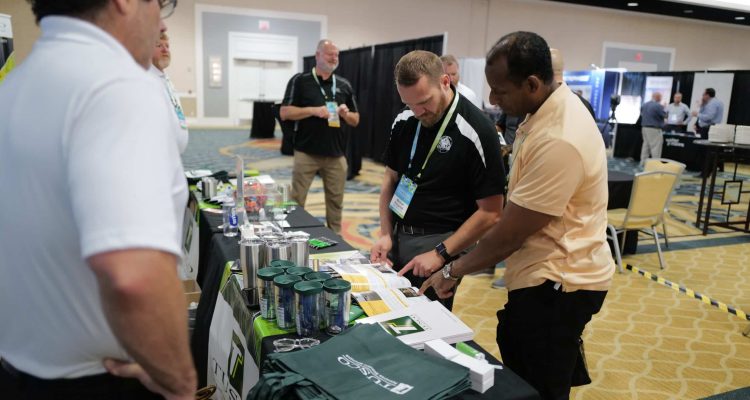 Game-Changers: Tusco at the 2022 NCS4 Conference
For Tusco, Inc., attending conferences serves a dual purpose—we get to spend time with our clients and partners, and we get a front-row seat to hear about the latest news and products in the industry. This in turn helps us provide 360-degree security solutions.
We recently hosted a booth and exhibited at the 2022 National Sports Safety and Security Conference & Exhibition (NCS4) in Orlando, Florida. If you aren't familiar, NCS⁴ is the nation's only academic center devoted to the study and practice of spectator sports safety and security. They support the advancement of sport safety and security through training and educational programs, research, and outreach activities. The NCS⁴ collaborates with professional sports leagues, intercollegiate and interscholastic athletics, marathon and endurance events, entertainment facilities, as well as professional associations, private sector firms, and government agencies. It is a critical resource for sport venue managers, event managers, first responders, and other key stakeholders.
Sports venue safety and security is one of our favorite types of projects we work on. Not only are we big sports fans here at Tusco, but we also have a lot of experience in the sports industry and take security very seriously. Some of our recent sports projects include Mercedes Benz Stadium, Atlanta Braves Stadium, Augusta National Golf Course, and Marlins Park.
This year's conference theme was Game-Changers: Lead, Discover, Innovate.
Over the course of the four-day conference, we got to hear from some serious game changers.
Our favorite presentations included:
A Case Study Review of the Major Perimeter Security Breach and Crowd Management Challenges at the European Cup Final – Wembley Stadium – July 2021
Pete Dalton, MSyl, Protective Security and Major Event Consultant, PAD Command Consultancy
SAFETY Act: Changing the Game through Innovative Anti-Terrorism Technologies
LaTasha R. Thompson, Ed.D., Program Director, Office of SAFETY Act Implementation, DHS, Science and Technology Directorate Laura Itle, Ph.D., Assistant Director, , Operational Evaluation Division, Institute for Defense Analyses, Geoffrey McGovern, J.S., Ph.D., Director of Intellectual Property, Homeland Security Operational Analysis Center, Senior Political Scientist, RAND Corporation
Applied Crowd Management Strategies
Jeff Stonebreaker, CSSP, Senior Vice President, Safety and Security, Major League Soccer, Zoe Irizarry, Senior Manager, Safety and Security, Major League Soccer
The Four Tenets of an Effective Venue Security Program
Akmal Ali, J.D., Founder and CEO, inOrbit
And between great presentations and breakout sessions, we got to see some cool new products from some really innovative companies. We already have some exciting ideas about how to start deploying these new products in upcoming Tusco projects.
You can find the full agenda from the 2022 National Sports Safety and Security Conference & Exhibition (NCS4) here.
Tusco, Inc. is proud to work within the sports safety and security industry, and we strive to always deliver the most top-of-the-line products. To learn more about our security offerings, click here.
Are you interested in learning more about the security needs of your sports venue? Our experts can help! We'll talk you through the various products and services we offer to keep your assets and people safe. Tusco, Inc. will get you set up with physical security and electronic security strategies that will work for you. Give us a call or fill out our online contact form.