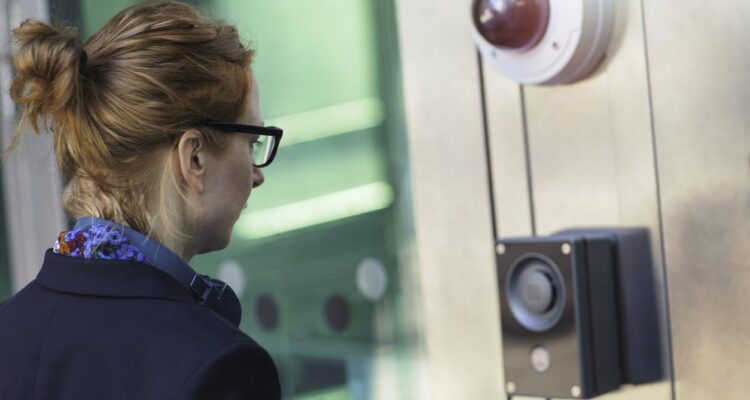 What is Electronic Security?
When you picture a security plan, do you envision secret key codes, a hidden room with many screens for monitoring operations? Maybe some lasers? You may be watching too many James Bond movies! 
While some of these elements do encompass a facility's security system, recent advances in electronic security are more efficient, cost-effective, and practical.
What is Electronic Security?
Our experts at Tusco, Inc. have outlined and explained the best electronic security products for enhancing operational efficiency at any facility.
Access Control Systems
Access control involves safely entering your facility, campus, or on-site locations. While this process previously relied on a guardsman or key fob, access control systems have new technology that can make entry into secure areas easier to manage. 
With remote management capabilities and proximity readers that allow for contactless entry, access control systems keep your facility secure, cost-effective, and efficient. At Tusco, we work with you to decide which strategies will work best for your building, helping you achieve the appropriate level of security.
Video Surveillance
More than live monitoring of your facility, video surveillance systems also help you monitor key insights to keep valuable resources safe. High-quality recorded video footage, video analytics, and cloud-based storage options allow you to monitor multiple areas of your facility without having to be on-site.

Video surveillance has many benefits beyond security. Our experts can help you discuss the most recent video technologies and how they can benefit your facility or campus.
Intrusion Detection
Paired with access control systems and video surveillance, our Tusco team proudly provides intrusion detection as part of an electronic security system. Along with being known for our high-quality perimeter security systems, we can integrate an electronic security system that informs you when there is a possibility of intrusion.
Communications 
The use of structure cabling systems, intercom paging systems, and mass notification systems can effectively communicate safety risks, potential threats, or emergencies to those in your facility. Our team at Tusco will guide you through both hardware and software options for a communications security system and help you find the most effective electronic security techniques for you.
Tusco, Inc. – We Help You Integrate Electronic Security in Your Facility 
Ultimately, a comprehensive electronic security system that can integrate with a facility's physical security measures increases the productivity and effectiveness of a security system as a whole.

Our team at Tusco, Inc. has extensive experience helping our clients find the perfect security solutions for their facilities. From government buildings to stadiums, hospitals, and more, we have been trusted to work on many significant projects throughout the United States. If you're looking for a comprehensive security strategy, we are the experts you want by your side.
Schedule a consultation with Tusco, Inc. today
Tusco, Inc. has been providing premier safety and security systems throughout the United States since 1974. Contact us at [email protected] for a complimentary security evaluation or for more information.