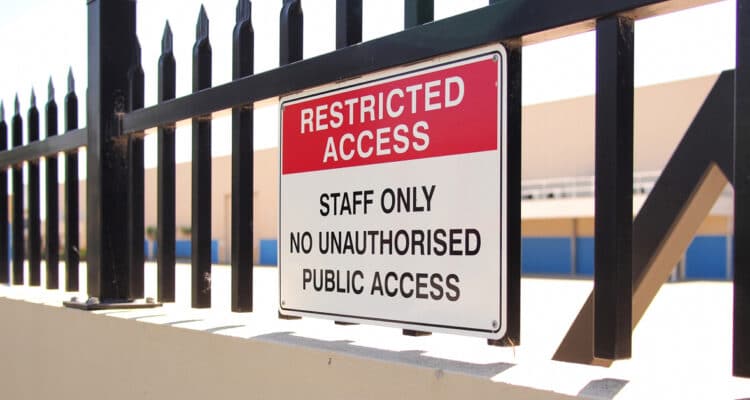 Safety and beyond: Does my facility need perimeter security?
While there are many different priorities for business owners, every business should ensure that their employees, clients, resources, and facilities are safe and secure. These safety measures often begin with the physical location of a commercial, industrial, or government space.

Whether you are pursuing a new construction project or enhancing your facility's safety and operations, incorporating a full security system with perimeter solutions and access control systems is crucial to maintaining your property's safety and security.
Tusco, Inc. — Constructing Excellence in Perimeter Security 
Perimeter security and access control systems are not only important to government facilities but commercial and industrial facilities, as well. When deciding on a comprehensive security system, you need to partner with an industry expert that can help you select the most advantageous products and services for your facility's safety requirements.

With over 40 years of experience installing and maintaining comprehensive perimeter solutions, our team at Tusco, Inc. has extensive knowledge of protecting your facility best to meet all of your security needs. Our security experts have outlined the benefits of perimeter security, access control systems, and how Tusco, Inc. can help your business receive the complete security systems that your facility necessitates.
Why You Need Perimeter Security and Access Control Systems
From government buildings to commercial spaces and industrial manufacturing plants, every facility can benefit from a comprehensive security system. Perimeter solutions, such as wedge barriers, and access control systems, such as video surveillance and communications, offer many benefits to an industrial or commercial space.

Some of these benefits include:
Physical protection.

Perimeter security can help identify suspicious activity and protect your facility, equipment, and personnel from intruders, theft, and other potential threats to your business.

Data security.

With the right security systems in place, you can protect private information and sensitive data from entering the wrong hands.

Peace of mind.

Ultimately, having a complete security system in place can provide peace of mind to you and your employees as you work at your facility. 
Tusco, Inc. Offers Your Company Safe and Secure Operations
Tusco, Inc. provides a full range of state-of-the-art security products and services for physical security, electronic security, and communications. Not only does our Tusco team have experience with the installation, service, and maintenance of high-quality security systems, but we have received the Department of Homeland Security Safety Act Designation for turnkey perimeter security products and services.
Physical Security
Security should begin the moment you step onto your facility. Controlling who enters your property, whether on foot or in a vehicle, heightens the safety of your campus. There are many different perimeter solutions available. Our expert team at Tusco, Inc. can help you evaluate which security measures are most suitable for your needs.

Our physical security products and services include:
Tusco, Inc. has been in the perimeter security business for a long time. We're confident that these products can remain a trusted perimeter security solution for your business or facility. 
Electronic Security
While protecting your physical location is crucial, you must also think of ways to guard your business' assets, resources, and data. Tusco Inc. is dependable in providing physical security and electronic security through high-quality access control systems and video surveillance. 
Access control systems allow you to authenticate and authorize entry to a restricted area of your facility. Whether with electronic door locks, proximity readers, or smartphone control, controlling who can enter your facility enhances the safety and security of your employees and operations. 
Additionally, the use of CCTV monitoring, IP-based cameras, and video analytics allows you to monitor potential threats within or outside of your facility. With a complete and robust electronic security system, you can observe and prevent security breaches proactively.
Communications 
Most people know that communicating is never as easy as it seems! With top-of-the-line communications systems, your facility not only improves operational efficiency but overall security, as well. 
Our team stays up to date with the latest technology, and we're experts when it comes to installing security systems. Our team at Tusco, Inc. can help your business determine which structured cabling systems are appropriate for your facility's needs. Additionally, we have a full range of options for communication solutions. From intercoms to sound masking systems, we know how to best utilize our communications products and services for the maximum comfort, security, and protection of your facility.    
Service & Maintenance
Being in the security perimeter solutions industry since 1974 has given Tusco, Inc. years of experience. We have expertise not only in selling high-quality security products but also in installing, servicing, and assessing properties for security systems in Alabama and beyond. 
Some of our services include:
Certified Installation

includes the installation of your physical, electronic, and communications security systems. We guarantee excellence, and we have a strong reputation with both our product manufacturers and clients.



Perimeter Security Site Assessments

allow for you to hear recommendations from the experts at Tusco, Inc. that fit with your facility, budget, and needs.



Layout and Design Consulting

provides a thorough analysis of your facility's site map and potential perimeter solutions to fit your present and future needs.



Maintenance Programs

include long-term agreements for ongoing maintenance provided by our service team.



Project Management

allows for Tusco, Inc. to successfully manage the necessary contractors to complete your security system installation on time.
When you partner with Tusco, Inc. for your security needs, you are gaining a reputable expert that has completed projects in every industry. We provide state-of-the-art security perimeter solutions nationwide, and we care about each project we complete.
Schedule a consultation with Tusco, Inc. today
Tusco, Inc. has been providing premier safety and security systems throughout the United States since 1974. For more information, call us at 205-553-8616 today or contact us here.