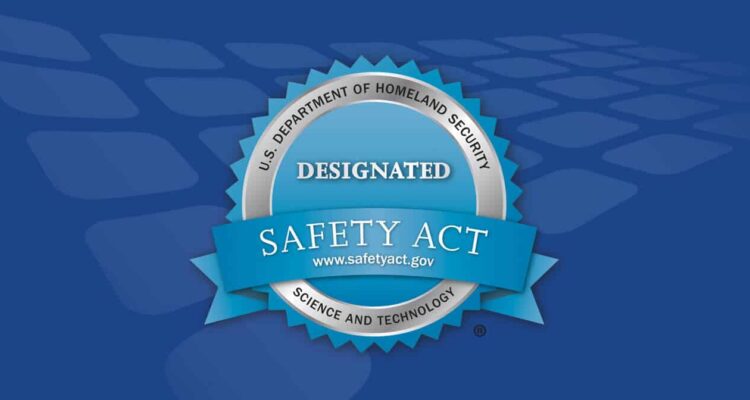 The Importance of the SAFETY Act Designation for Perimeter Security
Although we are approaching the 20th anniversary of 9/11, the effects of terrorism on our country are still highly prevalent. Not only are security measures of extreme importance concerning government buildings such as the Capitol, but perimeter security is also needed in commercial and industrial settings, from football stadiums to hospitals and everything in between.

Continuing to pursue the latest in perimeter security, access control systems, and other security technologies is critical in developing anti-terrorism products. While it can be a topic that induces fear, the need for anti-terrorism technologies in America is great, according to the SAFETY Act, which results in the need to confront that fear.  

The SAFETY Act Designation

After 2001, many companies have gotten into the business of aiming to protect facilities from acts of terrorism. However, not all security companies are awarded an official designation from the U.S. government. 
At Tusco, Inc., we have received the Department of Homeland Security's SAFETY Act Designation for our perimeter security products and services. We are the only turn-key perimeter security/vehicle barrier system contractor with this honorable designation.

What is the SAFETY Act?


In 2002, Congress enacted the Support Anti-Terrorism by Fostering Effective Technologies Act (SAFETY Act) as part of the Homeland Security Act. This act protects the developers of anti-terrorism technologies from risks and litigation. Essentially, in the event of any deemed acts of terrorism, the SAFETY Act limits the liability for companies, such as Tusco, that offer certain security products and services.

This law aims to ensure that the progress of antiterrorism technologies remains undeterred by conventional risk and liability. Ultimately, the goal is for companies to continue developing and commercializing products and services that could potentially save lives.
Benefits of the SAFETY Act Designation 

For Tusco, Inc., there are many benefits to receiving the SAFETY Act Designation. Because we have received the designation, we are protected from claims arising from the performance of our products and services in the event of a terrorist attack.

These benefits protect not only our company, but our clients as well. As an extension of our SAFETY Act Designation, our clients' facilities fall within our radius of protection. There are many potential advantages for our clients.

The three primary benefits of a SAFETY Act Designation are: 
Risk Management


When working with a contractor with a SAFETY Act Designation, you have certainty that the products and services successfully passed the DHS's stringent scrutiny and demonstrated efficiency.

Litigation Management
The designation automatically grants immunity to a seller's vendors, buyers, buyer's contractors, and downstream users of a SAFETY Act designated product or service. Therefore, in the event of an act of terrorism, the liability immunity extends to you.

Potential Insurance Cost Savings


One of the most significant benefits to our clients is the major insurance cost savings you can experience. As a result of the terrorism immunity coverage that you receive under the SAFETY Act, you could see immediate, lower insurance costs under your insurance program. For facilities such as sports stadiums or data centers, these cost savings could make a meaningful impact on your earnings.  

Additionally, the application process for receiving this designation is lengthy and rigorous. Receiving a designation is a remarkable and noteworthy achievement. Our clients can rest assured that we have the complete confidence of the U.S government. Our products and services were marked as reliable, trustworthy, and efficient under the SAFETY Act Designation.  

Tusco, Inc. – Reliable & Trusted Security Products & Services 

As one of the nation's leading contractors for security solutions, we take great pride in the products and services that we offer. 
The SAFETY Act Designation sets us apart from the rest. Because the manufacturers we work with also have received this designation, our clients receive a full designation on the physical security products, installation, and maintenance. You can rest assured that our products will protect your facilities long after the initial installation.
By providing high-quality security products, we've built a strong reputation of reliability, trust, and respect with our clients and community. With a seal of approval from the United States government, you can trust that our perimeter security and access control systems go above and beyond the industry standard.
Schedule a consultation with Tusco, Inc. today
Tusco, Inc. has been providing premier safety and security systems throughout the United States since 1974. Contact Tusco today and ask about an on-site perimeter security assessment. We'll tell you how the SAFETY Act can provide more protection for your facility.
For more information, call us at 205-579-9836 today or contact us here.