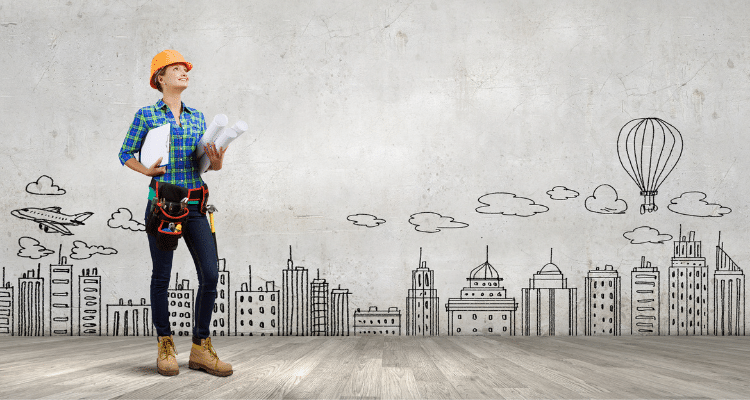 Celebrating and Supporting Women in the Construction Industry
March is Women's History Month and Tusco is proud to join the conversation not only commemorating and celebrating the vital role of women in American history but supporting the role of women in today's workforce, especially in the construction industry.
History
Though women represent 46.9% of the national workforce, they represent only 10.9% of the workforce in the construction industry. Despite what seems like a low percentage, there are more women working in construction currently than in the last two decades. In a recent study, The Institute of Women's Policy Research found that the share of women working in construction trades is the highest it's been in twenty years.
Many of the women in these roles are project managers, building inspectors, and architects while others lend their talents as electricians, carpenters, bricklayers, and painters. Regardless of whether they're creating spreadsheets and blueprints or mixing cement and hanging drywall, they bring high value and dedicated work ethic to the job. They are breaking through the glass ceiling in the male-dominated construction industry and bringing a fresh perspective (not to mention amazing multi-tasking skills) with them.
Tusco
As an equal opportunity employer, Tusco believes in supporting women in the industry and values the unique skillsets and perspectives women bring to their roles. Women represent a significant percentage of Tusco's diverse group of employees and excel in many areas from trade work to project management to integral leadership roles.
Resources
This month, Tusco is highlighting the National Association of Women in Construction (NAWIC)—an association founded in 1953 by 16 women from Texas who were actively employed in the construction industry. Today, with more than 115 chapters across the country, the NAWIC offers its members education, support, and networking to help advance their careers in construction, build their technical skills, and become leaders.
The Birmingham chapter of NAWIC connects the women of the Greater Birmingham community and beyond with job openings, frequent educational opportunities, and networking events including lunch and learns, panel discussions, job site tours, and more. (View their full event calendar here.)
March 6-12, 2022, is Women in Construction (WIC) Week, which raises awareness and celebrates the work of women in the construction industry across the country. NAWIC founded WIC Week in 1998 to continue its mission of strengthening and amplifying the success of women in the industry. This year's theme is 'Envision Equity' and Tusco is proud to show our support by highlighting the incredible women who make our company great. We will be posting on social media every day this week to show our appreciation for these women.
Additionally, Tusco is happy to amplify the work of Professional Women in Construction (PWC), a national nonprofit organization that seeks to support, advance, and connect women and promote diversity within the architecture, engineering, construction, (AEC) and related industries.
Both the NAWIC and PWC provide vital tools and support for women looking to further their careers in a variety of roles in the construction industry and offer members professional development and mentorship opportunities as well as the chance to be a part of a growing community of women and men who are passionate about construction and the future of the industry.
Membership Details
For PWC membership information visit: https://www.pwcusa.org/membership/membership-types/.
For information on joining the Birmingham chapter of the NAWIC, visit https://nawicbirmingham.com/Request_Information.